Since forming 'out of boredom' back in 2010, Peace have had people talking. The Birmingham quartet have generated no small amount of hype, being hailed as 'the future of indie music' by the Guardian and named NME's 'One's To Watch'. Their 'dark melodic indie techno' bagged them a Sound of 2013 nomination and their forward thinking musical mentality has seen them tipped from all sides.
Having already supported The Vaccines, Mystery Jets and Tame Impala, Peace also took the coveted opening slot on the annual NME Awards tour, performing with the likes of Django Django and Miles Kane. Peace are now set to embark on their biggest headline tour to date to coincide with the release of their much anticipated debut album, In Love, a breezy, psychedelic and eclectic mix of indie tracks, which will no doubt be receiving many plays this summer. After blowing everyone away at SXSW, we caught up with a jetlagged Harry (singer) to discuss the album and the tour, amongst other things.
Hi Harry, how're you doing?
Yeah I'm good. Just re-adjusting to the English time zone. We've been in Texas for South By Southwest.
How was that?
Goooooooooood. Very good, but now I'm a bit laggy, bit groggy. I've lost my voice a little bit.
'In Love', your debut album is out on 25th March. How was recording that for you? Tell us a little bit about the album.
It was a breeze. Yeah it was a good time recording that. We did the EP in like 9 days maybe, but we had more time with the album so it let us get more obsessive about tiny things and waste more time, like going over things we didn't use…but it was all a laugh. We had a lot of time to experiment.
Do you feel you've experimented a lot on the album?
Yeah, on stuff that's barely noticeable, but it all matters to us. There's a lot of sounds which took a lot of time and a lot of sounds in there which are barely noticeable, but hopefully people will pick up on it.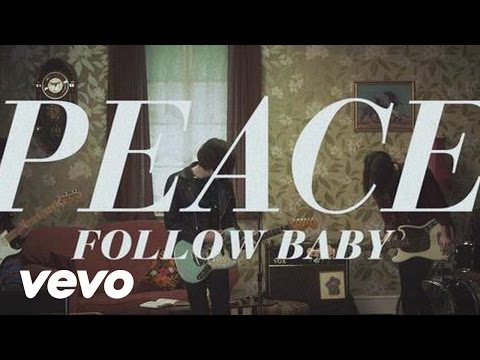 Also, you've generated a lot of hype from very early on, The Guardian even hailed you 'the future of indie music.' Did you feel a lot of pressure when making the album based on this?
Nah… we were out in the countryside, which was like, a rare change. So we were in the glorious country and we were staying in the studio which was this lovely chapel, so we kind of forgot about everything. We just made what we wanted to. It was very good.  It was a good plan. I don't know who's idea that was.
As with all new bands, people have made a lot of comparisons. So you've been likened to Wu Lyf, Vampire Weekend and even Radiohead. How do you feel about those comparisons?
I don't think we sound like any of those, but, you know, they're all good bands. I think those comparisons were made pretty early on when we were just experimenting and playing live was the only form that we could do it in.
Do those comparisons match up with your influences at all?
Um, not really. Maybe Vampire Weekend were into bands like Talking Heads. I don't know much of their [Vampire Weekend] stuff but then Radiohead are good to be fair. I guess in the industry today it's best not to aspire to be like bands past because I think the industry is very different nowadays. There's lots of classic bands that I look up to.
Tickets are on sale for your tour, are you excited for that after coming off the NME Tour?
Yeah, it's going to be really good to get out and do a headline tour. Really good. I'm excited and we did that for years before so we're prepared.
Is being on the stage where you'd rather be? Are you happier live than in the studio?
Um, not necessarily 'cause a studio it's completely different. We've built everything we have from playing live, so it just feels natural to us. So it's very easy for us to go on a really long tour and not worry about it and just get on with it.
You and your brother Sam (who plays bass) are both in the band. Is there an interesting dynamic there between brothers?
Everything comes naturally to us. We're on the same level. Its not weird or anything, it's just quite natural.
So there's no family squabbling there? No Gallagher-esque nonsense? 

No, no squabbling. Not yet. I mean…it's early days.
Inspired by that, I thought I'd let my little brother work with me and write a few questions. He's asking the big questions, such as, what's the most embarrassing thing to ever happen to you as a group?
As a group? Um…I'm trying to think of the most embarrassing thing…. In Austin Doug (Castle, guitar) smashed a glass table in the Four Seasons Hotel..and that was embarrassing. He now says that it was an accident, but at the time I was very convinced it wasn't.
You could probably pass it off as rock'n'roll….
Yeah it's not really that embarrassing. At the time I remember being like 'Oh no!' but I'm sure its easier to just be like 'Yeah, whatever.'
My brother's also asked me 'Can anyone do any good impressions?'
(Laughs) I can do one but I'm not going to say because it's of a band that I actually love and they might see this, so I'm not going to say that, but Dom does a great… I dunno if that's a bit taboo actually, but he does a great Jimmy Saville impression.
And finally he's asked 'Who's got the weirdest habits?'
Um…either…. I want to say Dom because he seems to have a lot of habits, but I dunno if they're that weird. But then like Doug maybe…the way that Doug operates, like, everything he does is really confusing. He doesn't work like a normal human. He doesn't have many habits but everything he does is unusual. He's just like an animal. He just doesn't function in a normal way.
In Love is out now, and tickets are available for the tour dates listed below:
April:
12th – MANCHESTER – Club Academy
13th – YORK – Duchess
14th – NEWCASTLE – Cluny
16th – GLASGOW – The Arches
17th – EDINBURGH – Electric Circus
18th – PRESTON – 53 Degrees
19th – SHEFFIELD – Leadmill
21st – GLOUCESTER – Guildhall
22nd – BRISTOL- Fleece
23rd – PORTSMOUTH – Wedgewood Rooms
24th – BRIGHTON – Concorde2
25th – READING – Sub89
26th – OXFORD – Academy 2
27th – BIRMINGHAM – Academy 2
30th – LONDON – Birthdays
May:
1st – LONDON – Birthdays
2nd – LONDON – Birthdays
3rd – LONDON – Birthdays
4th – LEEDS – Live At Leeds
Words: Dave Heslop