Visiting Bangkok is a hot, sticky and exciting experience. Overloading the senses with smells and sounds the streets of the city are bustling with traffic, people, market stalls and street vendors. During the day the Thai capital is much like any other overcrowded, hectic metropolis but it is at dusk when things become truly engaging. On-street food stalls seep exotic smells, young designers set up to sell their clothes and tourists wander around looking to sink a refreshing Singha in the stifling humid air. So jump on a Tuktuk, hold tight and enjoy the ride.
SHOPPING
Clothes, costume jewellery and gifts are cheap to find in Bangkok. Cute dresses and the latest styles of Topshop are mimicked. Blouses and skirts can be picked up for £4 on the night markets and while the quality is about as throw-away fashion as it gets and probably won't last too many washes walking around the streets of Siam Square and finding the little warren of stalls, markets and shopping centres is much more fun than walking through the doors of Primark for the same kind of items. Little design boutiques are all over the area with cool togs and leather bags aplenty.
For jewellery and gifts – or just for the experience – the city's chinatown in a great place to explore. Oddly food (other than from street vendors) is hard to come by but if you are looking for shoes, stationery, trinkets or small furnishings then its a fun place to visit.
MARKETS
By far the biggest market in Bangkok (at 27 acres) and we suspect almost anywhere else, is Chatuchak. Taking place each weekend the market sells everything from second-hand clothes to pets (we kid you not – there's Saint Bernard dogs to Persian cats). Split in to sections the tightly packed stalls offer little room to pass the other thousands of people that flock there. Our tip would be to check the website and plan a route of what you want to see. You can spend hours here and one visit is just never enough.
DRINKING
It might be a bit of a Bangkok cliche but the famous Backpacking area Koah San Road is a great place to sit and people watch. Get off the main drag of the market and navigate along to the adjacent street and you'll be rewarded with the cheapest beer (60BHT for a large bottle of Chang which is about £1.25) and some varying quality live music. The free entertainment of watching gap year students with over-sized rucksacks trying to find their super-cheap hostel is good fun in a smug kind of way.
If the sleazy end of Bangkok is your draw then avoid the craziness of Patpong (especially after 10pm when the music gets turned up to maximum and the touts really want to fill their girly bars). The price of drinks doubles here, the market is full of knock-off Rolex's and the atmosphere isn't that great. Instead opt for the much friendlier, cheaper and smaller Soi Cowboy. Easy to reach on the Skytrain if your thing is boys or girls you can drink, eat and have fun in much less hassle.
SLEEPING
In the urban jungle of Bangkok with its overwhelming smoggy heat finding as oasis like Hansar (tucked behind the Four Seasons in the commercial heart of the city on Rajdamri Road) is a godsend. With an impressive indoor garden wall in your room as you enter you feel as if you are back outdoors.
This all-suite boutique hotel opened just over a year ago and looks sparklingly new. Tasteful artwork is scattered throughout from the moment you enter the hotel you are greeted by a large colourful fabric piece on one wall and black and white nature images on another. The touches of art appear throughout in subtle spaces.
Winner of a 2011 Best Boutique City Hotel award Hansar is packed with cool but understated touches from the suite's silk-paneled lounge, mirrored sliding doors, large bathroom and walk in shower to the hotel facilities.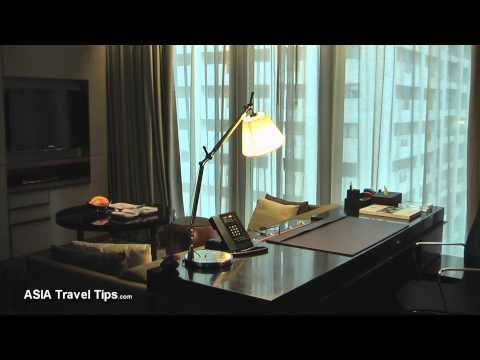 Wireless internet is free, there are great dining areas and a spa; ideal for the business traveler as much as the holidaymaker thanks to its central location. However the deal breaker has to be the rooftop infinity pool which makes you feel as though you are swimming on top of the city.