Phenomenal Handclap Band are back in the UK this month to dish out their latest serving of disco, funk and psych-soul as they bring with them their new album Form and Control.
Unlike the self-titled debut album in 2009 which featured a string of 'friends' joining them in the studio, the New York collective have stripped to the bare bones. Now the eight piece band are out to stamp their mark by flying solo with their ambitious effort which nods to influences ranging from Human League to Justice. Fused caught up with co-founder and producer Daniel Collas to talk about all things phenomenal.
Welcome back to the UK, how are you settling in over here?
We came over for the first time in 2009 so at this point we have got used to being here. Things like knowing where to eat or drink, we tend to stick to Pizza Express or Nando's. We do like the fry-ups and fish and chips, but it's important to stay away from the fried foods if possible.
What do you get up to together while you're out on the road?
We have a lot of family style dinners and drinking. The bands dynamic is kind of like a self-contained party. Wherever we end up, we meet people and have a great time on our own.
You had early success with the infectiously catchy single '15 to 20' on your debut album. Was it a case of tough act to follow, or did it set the bar for your new album, Form and Control?
That song is kind of an anomaly from the rest of the record. A lot of people really caught onto it but I don't think they really listened to the rest of the album so in a way it was a double-edged sword. It definitely got a lot of people listening to us, but I feel that with the advent of this second record people were expecting more of the same sort of song, which we didn't really do much of. In a way '15 to 20' has set the bar because there is a standard we need to adhere to.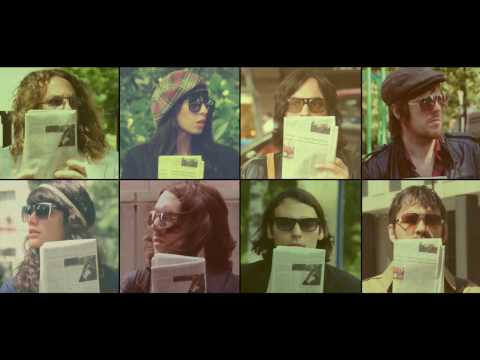 You incorporate a lot of genres into your music from song-to-song, and even within the same song. How much of that is down to the eight of you having different influences and music taste?
I think everybody has a different style that they're into, but it was the common ground that all of us had that enabled us to make our sound as a band. Even though we're all into different genres of music there is a commonality where those genres overlap.
So what is the common ground?
We're all fans of dance music, but I think that's such a broad term. I guess we're all into soul music from a lot of different countries. We all really like Turkish, Brazilian, and Hungarian music, but it's when those different countries come together to make psychedelic or soul music – that's sort of the middle ground. A lot of the time it ends up being danceable, or having that strong sense of a rhythm.
How do you go about incorporating all of these ideas and influences together?
Me, and my production partner, Sean Marquand, would come in with songs that are already started with a direction and lyrical ideas. Then the rest of the group would add their two-cents. We found it works best when we have a certain amount of ideas so it isn't just a free-for-all. It would already be heading in a certain direction. In some cases it would end up turning into a whole different direction and in others it would be magnified.
With yours and Sean's background being production, are there any bands you would love to produce either now or sometime in the future?
Wow, that's something I feel like I should think about more. There are definitely certain people I'd love to work with and people that I really admire but I haven't really thought about that.
How about future collaborations?
I really love this Swedish band called Dungen, and there's a French artist called Yelle that I like a lot. And the new Justice record, the guy who just sang on that is our friend Morgan Phalen (Diamond Nights) and he's on tour with us now so there could probably be some good collaboration.
In the past you've done a lot of collaborations with the likes of Jon Spencer (Heavy Trash), do you ever get them to perform with you while you're on the road?
The first record was definitely more of that collaboration element, and being able to get together with people that we're friends with but hadn't been able to do anything substantial musically together other than jamming occasionally so that record was a 'let's actually make a record together'.
But this new record, Form and Control – we've been a band now for a couple of years, travelled a bit and played together a bit, so now it's time for us to do things on our own without the outside collaborative nature involved with the band.
Did making Form and Control without people coming in from outside make it easier or more difficult to put the record together?
The first album was more like a recording project that grew into a band. We didn't really plan on recording that because we weren't really in the same place at the same time. There were people on the West Coast that contributed and people on the East Coast, so getting them together was a logistical problem. So we put together the band afterwards to play the songs from the album, and many of those were people who played on the record to begin with so that just grew into a functioning band, which in turn developed into the band that we have now.
What else have you got going on right now?
We have a few singles and remixes coming up but nothing with a set date. The album's just come out so we're really just working off that.
Any festivals in the pipeline?
There are a few that are looming but I don't want to jinx it because I'm really keen on being able to do them. I get really superstitious in situations like this. I think they will be in Europe and beyond but we will definitely be back in the UK in the summer time as well. We didn't really spend much time on the first record so there will probably be a fair amount of that, but it's always nice to get out of our own country and come out here.
The Phenomenal Handclap Band are playing Birmingham's Hare and Hounds on Saturday 3rd March.
Form and Control is out now.
Words: James Drakeford